Welcome to the Carlini Institute
2014 The Year of New Beginnings
Scroll down the page for the latest solar flare reports.
Here, we are finally in the year 2014, and there is a shift in consciousness happening around the world like never before. As this shift takes place, we are finding that how we live in our world and how we perceive our world are going to change drastically from our previous and current viewpoint.
For 5,000 years, we have been taught that our physical reality is massive and really hard to change. That viewpoint is limited, however, and is the result of knowledge associated strictly to the limitation of the five bodily senses. In fact, most of the action in the physical universe happens on a much subtle level. Quantum mechanics and computer science have taught us that physical objects can be viewed as vibrational information systems. When we understand the concept of energy exchange, our solid and immovable reality becomes something much lighter and responsive to positive change.
Scientists, in recent years, are finding that the Earth's magnetic fields are far more significant than they previously thought. They now know that the human brain contains millions of tiny magnetic particles. These particles connect us to the Earth's magnetic field in a powerful way as a human antenna. We are both transmitters and receivers of subtle energy, or consciousness; a timeless interconnectedness that somehow encompasses the very foundation of our life.
It has now been discovered that the magnetic fields have a profound influence not only on our consciousness, but on our nervous system, our immune system, and reality itself. It is easier for us to accept change when we are in the weaker magnetic fields that we are now experiencing. Our beliefs about our experiences strongly influence our physical reality.
At present, we are in the midst of solar flare cycle 24 that is influencing the magnetic fields on Earth and also the consciousness of mankind. For the Earth, the solar activity is causing a cleansing affect as physical shifting, shaking, purging and extraordinary weather patterns. And for us, we are experiencing the same on the physical, emotional, mental and spiritual levels. Our inner weather patterns show up as tears, moodiness, anxiety, intense grief or sadness, and other common emotional reactions. It feels uncomfortable when it is happening, but the result of releasing all the negativity is amazing.
The beautiful gift we are receiving from the current solar cycle is the ultimate awakening of our consciousness and the higher codes of our DNA. This awakening is what is moving us away from the outdated ego beliefs of separation and illusion into a new reality of Soul awareness. In the process, we are beginning to remember who we really are.
Now, with these changes in the magnetic fields, something deep within us is changing; an era is ending, and at the core of creation, something is coming alive in a new way. A light at the center of the universe that has been dormant for millennia has been rekindled. This is the light of life itself, waking up, remembering its own real nature and divine purpose. With this awakening, our world is undergoing a transformation at the core of its very essence as shown in Heather's new ebook.
How Solar Flares Help You to Evolve, by Heather Carlini C.M.Ht. offers a positive viewpoint on what is happening on Earth at this time of the Shift into Higher Consciousness. The book contains researched information through correspondence with people from around the globe regarding the effects of solar activity, and also from research into what scientists are currently saying on the subject. Heather drew from her years of practice in the field of medical hypnosis and medical intuition, along with her understanding of brainwave states and the intuitive mechanics of the higher part of the mind called the Higher Self/Soul. Throughout the book, Heather has endeavored to put all these aspects of information together to help you understand what we are all experiencing at present with the entrance of these higher frequency energies on Earth. 
Link to purchase e-book: http://store.carliniinstitute.com/
International Copyright ©Heather Carlini 2012-2014. 
---
 Spaceweather.com forcast for Dec. 20, 2014
 WEEKEND MAGNETIC STORMS? NOAA forecasters estimate a 60% to 65% chance of minor geomagnetic storms this weekend when a pair of CMEs is expected to sideswipe Earth's magnetic field. High-latitude sky watchers should be alert for auroras after nightfall.
X-FLARE (UPDATED): Big sunspot AR2242 erupted on Saturday, Dec. 20th @ 00:27 UT, producing an intense X1.8-class solar flare. NASA's Solar Dynamics Observatory captured the explosion's extreme ultraviolet flash: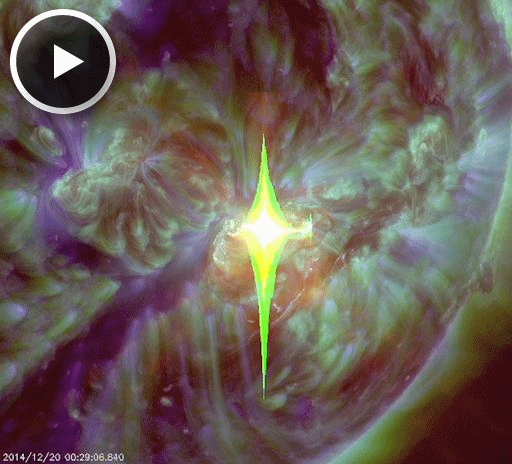 A pulse of X-rays and UV radiation from the flare reached Earth minutes after the explosion. This "solar EMP" ionized our planet's upper atmosphere and blacked out HF radio communications over Australia and the South Pacific. Below 10 MHz, transmissions were strongly attenuated for more than two hours.
The explosion also hurled a CME into space. Click to view a movie of the cloud as recorded by the Solar and Heliospheric Observatory: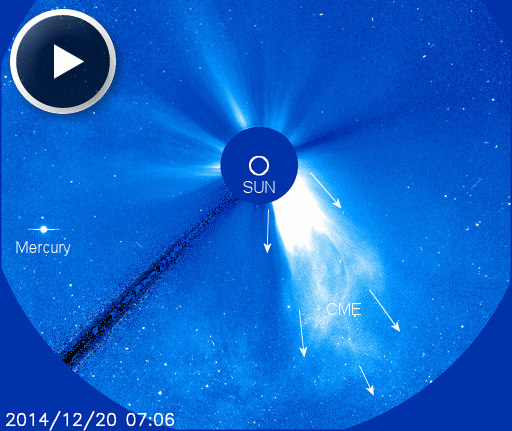 Although the instigating flare was Earth-directed, it appears that the CME is not. The bulk of the cloud will sail far south of he sun-Earth line, missing our planet
---
---
Solar Flare Reactions Questionnaire
©Heather Carlini C.M.Ht. 2013-2014

Hi Folks, Heather Carlini here from the Carlini Institute.  I continue to do extensive research into the effects of Solar Flares on the body during Solar Flares. During strong solar activity,  I am hearing from people around the globe, and would love to hear from you if you are experiencing the various symptoms mentioned below during strong solar flare activity.  If  you are experiencing these symptoms, but don't know if there was a solar flare related, please check out
The SunToday.com to see what they are reporting for the day. 

Please pass this on to any groups you are on and have anyone with these symptoms contact me by filling out the questionnaire.
Here are the questions I would love to have you answer and send back to as soon as possible to heathercarlini@carliniinstitute.com
Please mention your name and country, as I am hearing from people around the globe.
Please Note if there was a strong solar flare of an M-class or X-Class on the day you felt the symptoms.
1) Are you experiencing heat sensations in the body, were they related to strong solar flare activity? 
2) If so what class of solar flare C, M or X and the date. 
3)  Were you drinking water day?
4) Did the heart race?
5) Did you find yourself having to go to the bathroom many times?
6) Did you feel anxious?
7) Did the body feel shaky?
8) Did you feel like you had a temperature and if so did you take your temperature reading?
9) Did the energy move to different parts of the body or was it generalized over all the body?
10) Did you feel confused?
11) Did you feel nauseous?
12) Was the energy in the main trunk of the body or was it from head to toe?
13) Did the energy move around the body?
14) Was your face red?
15) Did you feel dizzy or have vertigo?
16) Did you feel very emotional?
17) Did you experience skin inflammation?  Was the skin itchy? Did it turn red or have welts? (describe).

18) Were you drinking lots of caffeinated drinks at the time?
19)  Did you have a migraine headache?
20)  Did you have sinus problems?
21)  Did you experience asthma or spells of coughing?
22)  Did you experience higher pitch ringing in ears? or congestion in ears?
Please note any other pertinent information related to this subject that you feel is important to note.
Thanks for participating in my research.
Heather Carlini C.M.Ht.
www.carliniinstitute.com
---