Welcome to the Carlini Institute

2016 The Year of Miracles



Scroll down the page for the latest solar activity reports.



Here, we are finally in the year 2016 and there is a shift in consciousness happening around the world like never before. As this shift takes place, we are finding that how we live in our world and how we perceive our world are going to change drastically from our previous and current viewpoint.

For 5,000 years, we have been taught that our physical reality is massive and really hard to change. That viewpoint is limited, however, and is the result of knowledge associated strictly to the limitation of the five bodily senses. In fact, most of the action in the physical universe happens on a much subtle level. Quantum mechanics and computer science have taught us that physical objects can be viewed as vibrational information systems. When we understand the concept of energy exchange, our solid and immovable reality becomes something much lighter and responsive to positive change.

Scientists, in recent years, are finding that the Earth's magnetic fields are far more significant than they previously thought. They now know that the human brain contains millions of tiny magnetic particles. These particles connect us to the Earths magnetic field in a powerful way as a human antenna. We are both transmitters and receivers of subtle energy, or consciousness; a timeless interconnectedness that somehow encompasses the very foundation of our life.

It has now been discovered that the magnetic fields have a profound influence not only on our consciousness, but on our nervous system, our immune system, and reality itself. It is easier for us to accept change when we are in the weaker magnetic fields that we are now experiencing. Our beliefs about our experiences strongly influence our physical reality.

At present, we are in the midst of solar flare cycle 24 that is influencing the magnetic fields on Earth and also the consciousness of mankind. For the Earth, the solar activity is causing a cleansing affect as physical shifting, shaking, purging and extraordinary weather patterns. And for us, we are experiencing the same on the physical, emotional, mental and spiritual levels. Our inner weather patterns show up as tears, moodiness, anxiety, intense grief or sadness, and other common emotional reactions. It feels uncomfortable when it is happening, but the result of releasing all the negativity is amazing.

The beautiful gift we are receiving from the current solar cycle is the ultimate awakening of our consciousness and the higher codes of our DNA. This awakening is what is moving us away from the outdated ego beliefs of separation and illusion into a new reality of Soul awareness. In the process, we are beginning to remember who we really are.
---

Recently, with these changes in the magnetic fields, something deep within us is changing; an era is ending, and at the core of creation, something is coming alive in a new way. A light at the center of the universe that has been dormant for millennia has been rekindled. This is the light of life itself, waking up, remembering its own real nature and divine purpose. With this awakening, our world is undergoing a transformation at the core of its very essence as shown in my ebook How Solar Flares Help You to Evolve, that offers a positive viewpoint on what is happening on Earth at this time of the Shift into Higher Consciousness. This e-book contains researched information through research with people from around the globe regarding the effects of solar activity, and also from research into what scientists are currently saying on the subject. I drew from my many years of practice in the field of medical hypnosis, Energyinformatic Science, Energy Medicine along with her understanding of brainwave states and the intuitive mechanics of the higher part of the mind called the Higher Self/Soul. Throughout the book, I have endeavored to put all these aspects of information together to help you understand what we are all experiencing at present with the entrance of these higher frequency energies on Earth. It gives helpful information  on how to dispel your fears.


Click this Link to purchase e-book: http://store.carliniinstitute.com/
---
  Solar Forecast from Spaceweather.com Oct 27th, 2016 
GEOMAGNETIC STORMS TODAY: Minor (G1) to moderate (G2) geomagnetic storms are likely on Oct. 27th as Earth continues to move through a fast-moving stream of solar wind. Polar sky watchers should remain alert for auroras. 

CRAZY PINK AURORAS: During the ongoing solar wind storm, observers around the Arctic Circle have been reporting auroras of an unusual color. "Crazy pink," says Frank Meissner, who took this picture from Tromsø, Norway, on Oct. 26th: 

 "It was awesome," he says. "Flash-like bursts were zooming all over the sky."
Also watching from Tromsø, veteran observer Terence Murtagh says "even with many hundreds of aurora sightings under my belt, I've never witnessed such distinct pink colors clearly visible and bright to the naked eye. They were almost too bright to photograph properly."The pink color is probably a sign of nitrogen. Most auroras are green--a verdant glow caused by energetic particles from space hitting oxygen atoms 100 km to 300 km above Earth's surface. Seldom-seen pink appears when the energetic particles descend lower than usual, striking nitrogen molecules at the 100 km level and below.
---
Message From Heather: 
Oct 27
It looks like we are in for more strong energies over the next few days so stay tuned. Remember to drink extra water as most of the symptoms we feel are due to dehydration at the core.    Also I want to add that many are reporting feeling inflammation in the body as I am researching this element of symptomology in depth.  If  you are interested in helping with my research, please fill out the attached questionnaire and add anything that I haven't mentioned.  I  truly appreciate your help.
Geomagnetic storms and solar flares, that we experience from time to time can cause cause body aches and pains along with earaches, headaches, itchy eyes, stomach trouble and/or heat on the top of the head and sometimes  in the spine. Many people experience inflammation in the body from these incoming energies. Curcumin tabs help with inflammation as well as Omega 3.  If the inflammation is in the stomach and intestines it is best to cut back on food intake somewhat and drink extra water. Any food that is acidy seems to agrivate the situation... such as coffee or black tea.    Ginger tea helps with inflammation instead. Ginger ale helps with stomach upsets.  For anxiety:  Olive from Bach Flower Remedies. ( I like the natural cures.)
If you are experiencing itchy skin or welts, camphor cream helps immensely. FYI itchy skin can also be a sign of dehydration.
Be sure to drink extra water as these incoming energies can easily cause dehydration in the body.  Pets also need extra water.  
---
 The Energy at Present
 We are moving out of the old energy into the new and it feels like we are in the middle of null zone energy… with no points of reference to follow.  We are in-between the old 3D energy of the past and the new  5D energy that is coming onboard at present.  This is why many are having dreams of the past and letting go of old hurts.  The release of these cellular memories from the past often cause body aches and pains along with body heat.  You will notice on my reports from spaceweather.com, the weather is changing while the new energy cleanses  both the earth an also us.  Its all good but it sure doesn't feel that way sometimes.
According to Quantum Physics there is always chaos before change.  
Hang in there follks... this too shall pass.
If you want to email me about what you are experiencing in this energy, my email is heathercarlini@carliniinstitute.com
I love hearing from people in the different countries around the world.
Heather Carlini C.M.Ht.
---
Symptomology from Solar Acitivity Questionnaire
Carlini Institute for Therapy, Research and Transpersonal Education
Heather Carlini C.M.Ht.
Your Name:
Location: (City, Country) Important as I hear from people around the globe:
Date:  
Please pass this on to any groups you are on and have anyone with these symptoms contact me by filling out the questionnaire.
Here are the questions I would love to have you answer and send back to as soon as possible heathercarliniinstitute.com
You can also report other symptoms that I haven't mentioned. Thanks

1) Are you experiencing heat sensations in the body?
2) If so was there strong solar activity happening?
3) Were you drinking water that day?
4) Did the heart race?
5) Did you find yourself having to go to the bathroom many times?
6) Did you feel anxious?
7) Did the body feel shaky?
8) Did you feel like you had a temperature and if so did you take your temperature reading?
9) Did the energy move to different parts of the body or was it generalized over all the body?
10) Did you feel confused?
11) Did you feel nauseous with an aching stomach?

12) Was the energy in the maintrunk of the body or was it from head to toe?
13) Did the energy move around the body?
14) Was your face red?
15) Did you feel dizzy or have vertigo?
16) Didyou feel very emotional?
17) Did you experience skin inflammation? Was the skin itchy? Did it turn red or have welts? (describe).
18) Wereyou drinking lots of caffeinated drinks at the time?
19) Did you experiencing higher pitching ringing in ears or ear congestion?
20) Did you experience asthma or coughing spells?
21) Did you experience migraines?
22) Did you experience excessive sneezing?
23) Are you experiencing frozen shoulders and neck pain lately? 
24)  Are  you experiencing extreme exhaustion?
Please note any other pertinent information related to this subject that you feel is important to note.
Thanks for participating in my research.
Heather Carlini C.M.Ht.
(copyright) heathercarlini@carliniinstitute.com
www.carliniinstitute.com
---
95% CHANCE OF NO SOLAR FLARES: NOAA forecasters have boosted the odds of an M-class flare today to 5%. In other words, there is a 95% chance of nothing happening.  Solar flare activity is likely to remain very low on Oct. 8th as the solar cycle continues its downward plunge. Free: Space Weather Alerts.
THE INTERCONTINENTAL SWx BALLOON NETWORK: For the past 2 years, Spaceweather.com and the students of Earth to Sky Calculus have been launching "space weather balloons" to measure cosmic rays in the atmosphere.  Regular flights over California show that atmospheric radiation is intensifying in response to changes in the solar cycle.  Now, our monitoring program is going global.  In recent months we have been developing launch sites in multiple US states as well as South America and Europe. This is what the International Space Weather Ballooning Network looks like in October 2016: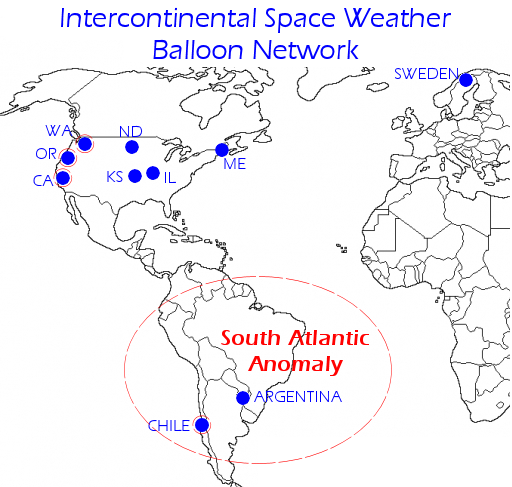 Recent additions expand our coverage north of the Arctic Circle (Sweden) and closer to the core of the South Atlantic Anomaly (Argentina).  We also hope to add a site in Antarctica in 2018.
The purpose of launching balloons from so many places is to map out the distribution of cosmic rays around our planet. A single launch site is simply not enough to reveal the nonuniform shielding of our planet's magnetic field and the complicated response of our atmosphere to changes in solar activity.  
Our first test of the network validated these ideas. During a 48 hour period from August 20th-22nd we launched 4 balloons in quick succession from southern Chile, California, Oregon, and Washington. The ascending payloads sampled atmospheric radiation (X-rays and gamma-rays) from ground level to the stratosphere over a geographical range of more than 10,000 km. Here are the results: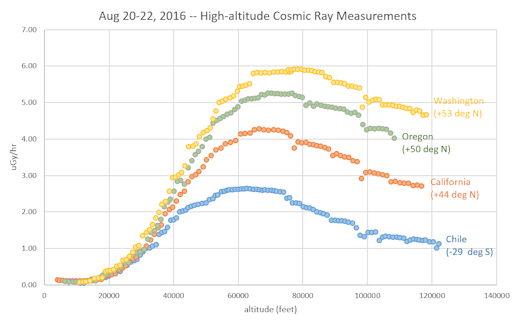 The curves show radiation levels vs. altitude for each of the four sites. Numbers in parentheses are magnetic latitude--a measure of distance from Earth's magnetic equator.  
At a glance we can see that atmospheric radiation is a strong function of magnetic latitude. Washington State at +53o has more than twice the amount of radiation as southern Chile at -29o--despite the fact that the Chilean balloon flew into the outskirts of the South Atlantic Anomaly. Clearly, Earth's magnetic field provides very uneven protection against cosmic rays. 
Coronal holes are places in the sun's atmosphere where the magnetic field opens up and allows normally-trapped solar wind to escape. This coronal hole is broad, and the stream of solar wind it is spitting out could influence our planet for several days.
SOMETHING DIFFERENT ON SPACEWEATHER.COM: Readers who frequently visit Spaceweather.com to check solar wind data should note an important change: Our primary data source has shifted from the aging ACE spacecraft to NOAA's newDSCOVR spacecraft, our planet's flagship space weather buoy located 1.5 million km upstream of Earth.  Links to ACE are still available, but the main numbers you see are ticking in from the Deep Space Climate Observatory.
ELECTRIC MOONBOW: There's a full Moon this weekend. That means it's time to be alert for moonbows. Ian Glendinning spotted this one arcing over a lightning bolt in Northumberland UK:
"The moonbow framed the lightning nicely--a rare and beautiful coincidence," says Glendinning.
Everyone knows what lightning is. But a moonbow? It's the same as a rainbow with the Moon playing the role of Sun. Raindrops falling in the Northumberland night caught the rays of the waxing full Moon and spread them into a fan of prismatic color.
Glendinning's exposure revealed something even more rare: a secondary moonbow. It's the faint 'bow arciing above the brighter primary. Primary rainbows are caused by single reflections inside raindrops; secondary bows are caused bydouble reflections. Watch for them both this weekend.
GEOMAGNETIC STORM UNDERWAY: A moderate G2-class geomagnetic storm is underway as Earth enters a stream of solar wind flowing from a coronal hole on the sun. First contact with the stream produced a magnificant outburst of auroras over Alaska during the early hours of Oct. 25th. Marketa S. Murray sends this picture from Fairbanks AK: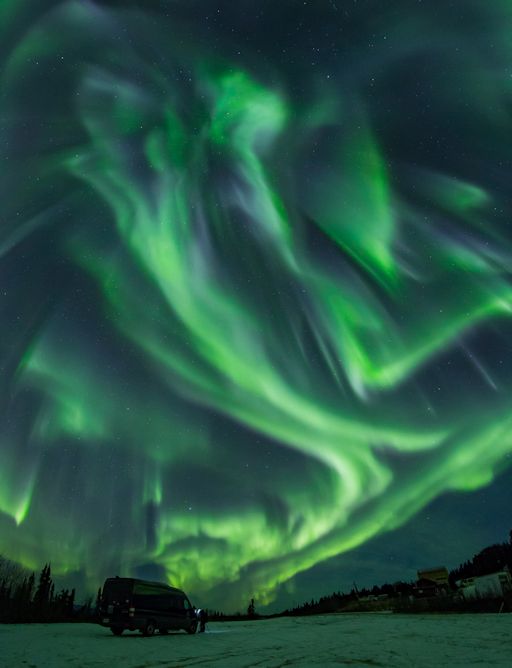 "The storm finally hit," says Murray, "and the auroras were unbelievable."
More auroras are in the offing tonight as the solar wind is blowing faster than ~700 km/s. The stream has already produced one episode of strong storming that registered G3 on the scale of geomagnetic activity. Around the Arctic Circle, the Northern Lights should be quite bright as Oct. 25th turns into the 26th. Lesser displays could cross the Canadian border into the United States. Free: Aurora Alerts.
SINUSOIDAL GROUND CURRENTS IN NORWAY: Not all space weather occurs high overhead. Sometimes it happens in the soil beneath our feet. Example: On Oct. 23rd in the Lofoten Islands of Norway, electrical currents began to flow through the ground, back and forth with a sinusoidal period of 74 seconds. Rob Stammes recorded the phenomenon at his geomagnetic observatory: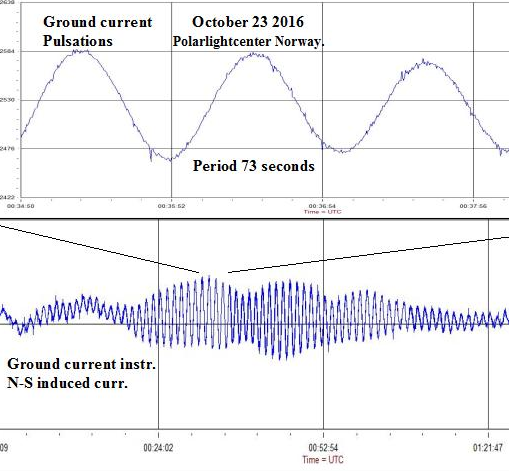 "Just after midnight UTC and around 02.36 local time, my ground current instruments picked up these very stable pulsations," says Stammes.
What's happening here? Ground currents are a sign of changing magnetic fields. Earth's magnetic field around the Lofoten Islands was swinging back and forth, inducing a sinusoidal amperage in the soil beneath Stamme's observatory.